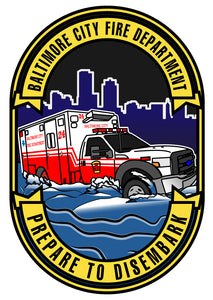 "I will drive this thing in the Inner Harbor!"
Picture this: it's the end of your shift, you've been running medicals non-stop with minimal food and no rest, and dispatch picks you up for yet another emergency that's better off at an urgent care. If that doesn't make you want to drive into the nearest body of water, you're lying.

The crew from BCFD's Ambulance 24 hit this breaking point. They didn't turn their unit into a submarine, but we would've cheered them on if they did.

Burnout is real and dangerous. Take care of yourself on and off duty.
Measures 2" W x 3" H.
Great detail and great turnaround time!
Amazing
Amazing sticker with alot of details
Great quality
Great quality sticker. Cannot wait to order more
Quality
Great decal. Had to get one for the legend that is M24
Great quality stickers!
Great quality stickers! Supporting the greatest EMS duo of 2022. Prepare to disembark!