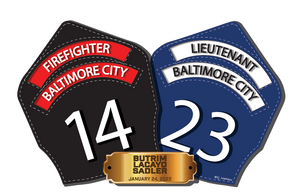 LODD artwork is pretty cringey.  And usually over the top.  Candles and shrouded badges and angels and flames and...yeah, it's a lot.  
Remember them how they lived: as firefighters, as comrades, as those you'd want next to you in your darkest moments.
"... you die twice. Once when you take your final breath, and then again the last time someone says your name." Say their names often so they may live forever.
Measures 2" W x 1.32" H
Impressive
For someone who works by himself, he sure is efficient. Everything I've ordered from him has been amazing quality and has held up beautifully.