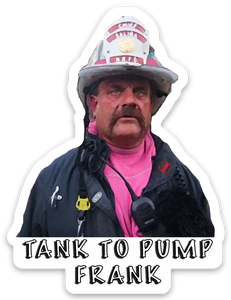 We've all seen the video of the hard-charging New Kensington chief. He singlehandedly knocked a house fire while coaching his driver on how to pump the apparatus. 
Wait, you haven't seen the video? Check it out below.
This dude is an animal, a one-man fire department, a cultural icon.
Stickers measure 2.25" W x 3" H.
Loser
What a loser! No wonder the house got destroyed a chief should lead and follow appropriate NFPA safety
Funny sticker
Good quality sticker. Went right on my yeti cooler
Stickers
As advertised. Quick Shipping. Quality sticker.
Best Sticker I Own
This is exactly what I was looking for ever since I saw that horrendous video! Now I just need this sticker made into a shirt.