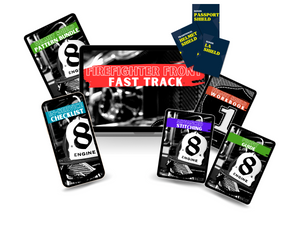 What it is ➡️ A complete blueprint to start making - AND SELLING - your own fire helmet fronts.
Includes:
easy-to-follow video lessons

the proven Helmet Shield Workbook

3 bonus patterns (LA shield, passport shield, square numbers)

unpublished pattern bundle (Indy shield, metro shield, Detroit shield, parade shield)

2 live coaching sessions

profit guide - how to set your prices to make $$$

profit calculator - the bulletproof way to profits

in-service checklist

advanced stitching guide
Who it's for ➡️ Any firefighter, beginning leathercrafter, advanced leathercrafter, and go-getter who wants to combine their passion with income.
Why people love it ➡️ Because they never have to think about "how can I make this shield? how much should I charge for it?" Every step, every issue, is taken care of. And the results are GOOD.