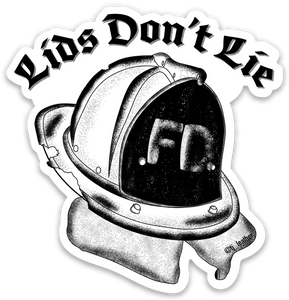 Posted 2/24/22:

The other week I was talking to a fellow fireman and we came up with the idea to have a beat-up leather helmet on a sticker. Like, wire-brim-showing-melted-bourkes beat up. And the conversation drifted to what text to add. Lids Don't Lie was the perfect slogan. You know, because you can talk a big game but your lid won't lie about what you've done or haven't done. It was the perfect sticker idea.
Fast forward to today. I found out through some passive-aggressive comments that Lids Don't Lie owns the trademark for the phrase (now I know that you can trademark a sticker). Fellas, what happened to actual direct conversation? We pride ourselves in being so alpha in the fire service, yet we resort to comments on an instagram post? We can do better.
Regardless, I wouldn't want anyone taking my intellectual property so I'm getting ahead of this

.

I'm selling the remaining stickers (<50 total), and donating the proceeds to the National Fallen Firefighters Foundation in honor of my fallen shiftmate

. After that they're gone forever.
Oh, Lids Don't Lie: hit me up if you want to work on your marketing. You have a great idea but the execution could use some work.
---
Actions speak louder than words. Scratches, dents, gouges, and burns are earned putting in work. And though you may talk a big game, your lid won't lie about the things you've done.
Measures 2.75" W x 3" H.